Returning to the Workplace: Employee Concerns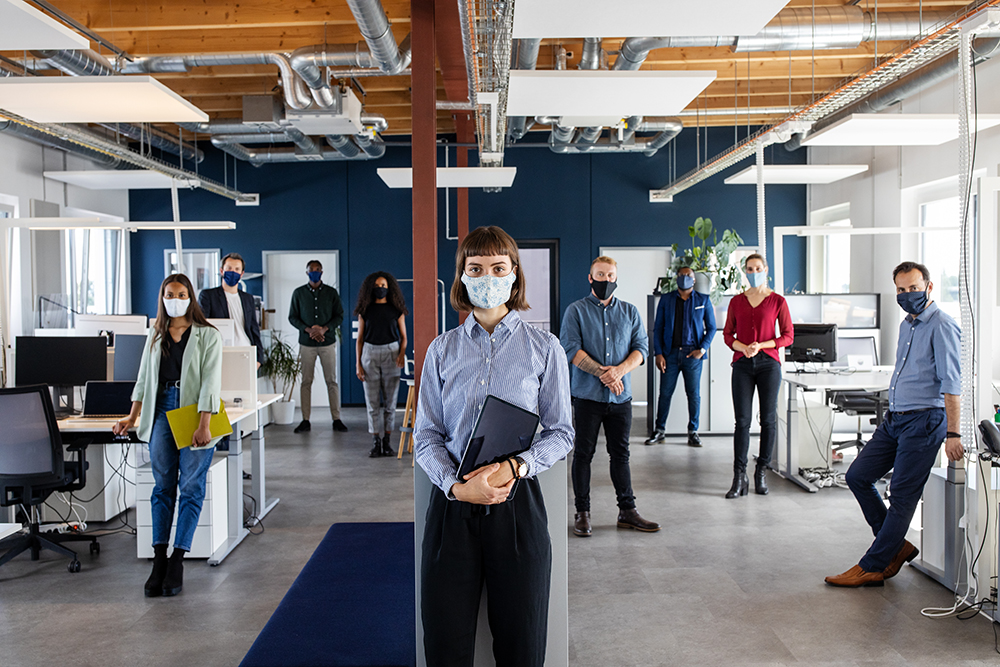 As vaccination programs become more widely adopted, and severity of COVID-19 infection decreases, many businesses and organizations are beginning to ease workplace restrictions. As we cautiously step out of lockdown, what are the concerns of those returning to work in shared indoor environments?
After more than two years of working from home, many employees are understandably anxious about returning to the workplace. The concerns are wide-ranging and include:
risk of getting sick as a result of working with unvaccinated co-workers
interacting with others who don't follow public health safety measures
lack of social distancing in workspaces and elevators
having to wear a mask for extended periods of time
decreased control over work hours
commuting time and having to use public transit
not being as available for family needs
Employers too are having to restructure and make adjustments for re-establishing indoor workplace culture after lockdown. They need to balance the needs of a workforce in which some employees may continue to remain home-based, while others return to shared indoor work locations, and still others who will adopt hybrid work schedules that include both at-home and in-office time.
Many companies are extending their work-from-home policies as well as remote and hybrid working opportunities. One US survey found 80% of those interviewed expect to work from home at least three times a week after pandemic restrictions are lifted. A similar UK survey saw that British employees want to retain WFH for about two days a week.1
COVID-19 has also introduced new priorities for employees seeking jobs: work location, schedule flexibility and healthcare benefits are top considerations. Employers will need to offer comprehensive healthcare plans, flexible working hours, and competitive pay to attract and retain employees.
Businesses must reassure potential and returning staff by ensuring their workplaces are secure. They can do this by implementing and enforcing health and safety protocols that reduce risk of virus transmission, and by regularly monitoring and following all government-issued COVID-19 advisories.
Employees and employers alike need to be open to change and adaptability to make the back-to-work transition successful. Revising office spatial planning to accommodate social distancing, for example, should be addressed in advance, to keep workers safe and give them peace of mind when returning to shared indoor areas. Companies also need to consider how to support those who are more at risk for infection or who have higher levels of anxiety about returning.
For many returning to offices and other indoor facilities, fears about virus transmission linger, and the importance of adequate cleaning and disinfecting for health and safety is a top concern.
The pandemic has changed how we clean, disinfect and sanitize workplace environments. Businesses and organizations in all sectors are reviewing existing protocols and procedures for cleaning and disinfecting their work facilities, post-COVID. They need to rely on commercial office cleaning companies who have the expertise and resources to do the job thoroughly and properly, and to provide the high standard of cleaning and sanitizing required to help prevent infectious disease transmission in the workplace.
To further address new health and safety concerns as businesses reopen, ServiceMaster Clean has designed an innovative science-based PROTECT-3 ADVANCE™ program, as part of its Healthy Office initiative, to provide comprehensive cleaning and disinfecting services, including anti-microbial continuous preventative protection, for facilities of all types and sizes.
ServiceMaster Clean is aligned with Health Canada recommendations and has the experience and resources to implement effective preventive cleaning, disinfecting and sanitizing procedures to help prevent outbreak and spread of infectious disease within facilities of all types and scale.
Help your staff overcome anxiety about returning to the workplace. Promote a healthy safe work environment and a sense of well-being by maintaining regular professional cleaning and disinfection maintenance schedules at your facility.
Let ServiceMaster Clean help you achieve your goal for a cleaner, healthier and more productive workplace. Contact us today for a no-obligation assessment. We will work with you to develop a cleaning and disinfection service plan to suit your facility's specific requirements and budget.
1 https://resources.owllabs.com/state-of-remote-work/2020