We are the commercial cleaning experts.
Welcome to ServiceMaster Clean Of Etobicoke
ServiceMaster Clean of Etobicoke is a leading provider of nightly housekeeping and janitorial services. For over 30 years, our company has been providing cleaning services to businesses in Etobicoke and West Toronto.
ServiceMaster Clean is a global industry leader in commercial cleaning, providing proprietary products and procedures to address the needs of the customer. Each of our cleaning programs is designed to satisfy your wants and needs in a customized and measureable package.
At ServiceMaster Clean of Etobicoke, we firmly believe in simplifying and improving the quality of our customers' lives. We know that clean, well-kept facilities help to enhance your corporate image and, in turn, create healthier environments for your employees and clients.
Regardless of your service requirements or commercial cleaning needs, you are only a phone call away from enjoying an opportunity to see just how we can make your workday easier.
Call or email us today to schedule an appointment. We look forward to hearing from you.
PREVENTATIVE CLEANING AND DISINFECTION SERVICES
For years, ServiceMaster Clean Of Etobicoke have been the experts in creating clean, safe and healthy workplace environments. Our experience and training afford us the ability to promote safe practices for infection prevention within all businesses.
In these unprecedented times, we are ready to respond with effective and customizable solutions. ServiceMaster Clean Of Etobicoke provides a full range of cleaning and disinfection services that will help to keep your workplace healthy and productive.
GET A FREE ASSESSMENT
COVID-19 FAQs
How can ServiceMaster Clean help?
If you need help maintaining routine cleanliness conditions in your workplace, you may want to call in a professional like ServiceMaster Clean to sanitize and disinfect.
Our expert technicians are trained to clean first to break organic loads and remove gross soiling. Then they sanitize or disinfect as appropriate.
When we do this, we follow the guidelines set in place by the health officials such as WHO and Health Canada. There are many methods of disinfection and you can be assured that your technician is trained to do each in the recommended manner. Our technicians also use appropriate PPE (Personal Protective Equipment) with your security and privacy in consideration.
MORE COVID-19 FAQS
News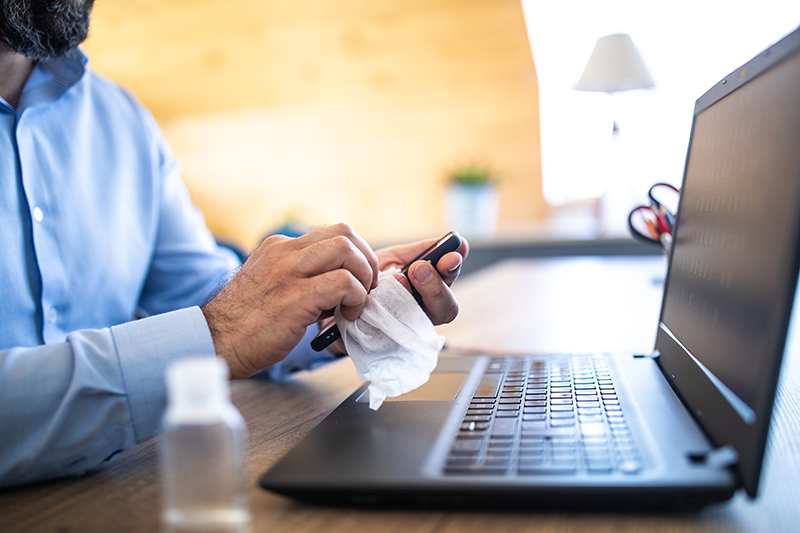 Office Disinfection: How To Prepare
Keeping your office clean, safe and healthy is important at any time, but during the COVID-19 pandemic it is crucial. Professional commercial cleaning staff can properly clean and disinfect your workplace, but they need to be able to work in an uncluttered environment to produce optimal sanitary results. This means desktops and work areas must be cleared of papers and objects prior to cleaning, so that all areas can be accessed for full-scale, professional sanitization.
About Us
Who We Are... As a group of professionally dedicated janitorial service providers, we consider ourselves to be an extension of your business operation. We are committed to an attitude of ensuring satisfaction, monitoring progress and communicating with all of our clie
Commercial cleaning services to suit every budget. Our plans start as low as $250 per month - whether you need daily janitorial office cleaning, commercial carpet cleaning or specialty commercial cleaning. Depending on your specific requirements, we will work with you to develop a plan that suits your needs, and your budget.
Guaranteed Service
No other vendor offers the quality of service and degree of commitment as consistently or as affordably as ServiceMaster Clean. We are so confident in our performance, we guarantee it!
Our expertise, dedication and value-added services make us the best commercial cleaning choice for your business.
Get A Free Assessment