The Importance of Office Cleaning & Disinfection for Employees' Peace of Mind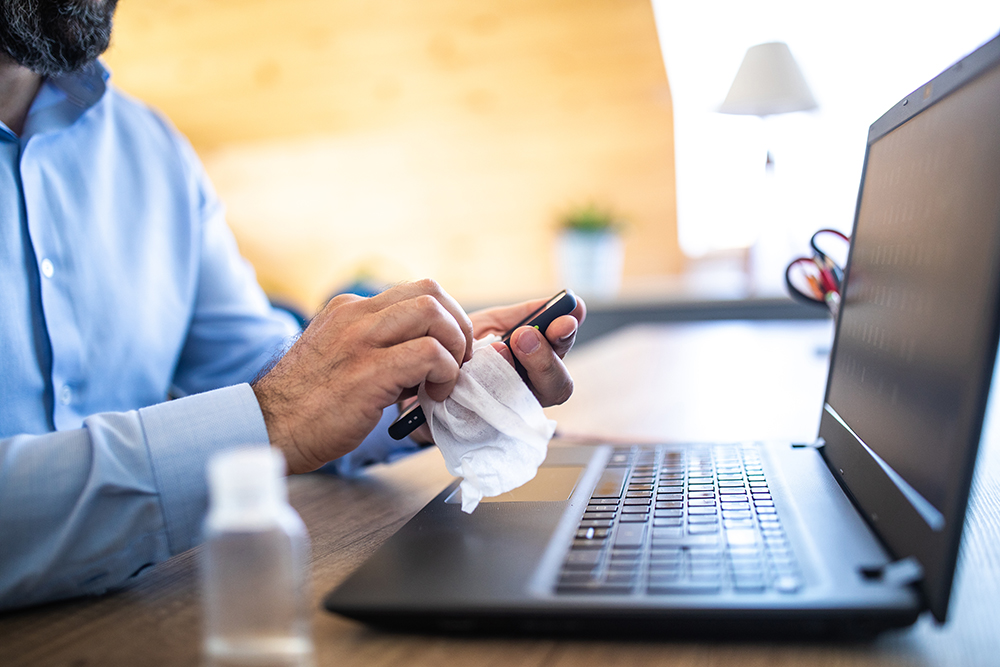 For many employees returning to offices and indoor work settings after the pandemic lockdown, anxiety about health safety and the importance of adequate cleaning and disinfecting in the workplace are top concerns. For many, the issue is about having "peace of mind" while at work.
According to a 2021 Benefits Canada Healthcare Survey of Canadian employees returning to the workplace, 83 per cent of respondents had at least one concern about returning to the workplace, including 38 percent who are anxious about working/interacting with co-workers who aren't vaccinated.1
A study conducted by the Cleaning Coalition of America (CCA) in December, 2021 showed 43% of surveyed employees were still worried about returning to the office, and for 62%, simply seeing professional commercial cleaning and disinfection being performed regularly at their place of work would make them feel safer.2
An overwhelming 93.4 percent of vaccinated respondents and 82.2 percent of unvaccinated respondents cited workplace cleaning as an important consideration for employees returning to the office, with 77.2 percent of workers wanting the workplace cleaned daily.
Around the world and in all sectors, employees working in shared indoor environments are putting increased emphasis on cleanliness and disinfection in the workplace, and this trend will now likely continue far beyond the pandemic.
As fears about virus transmission linger, businesses having difficulty attracting workers back to the workplace must build trust and confidence. For many who previously put an emphasis on cleaning for appearance pre-COVID, cleaning for health and safety is now the new standard for indoor shared work spaces.
It is crucial that businesses owners and facility managers rethink their cleaning and disinfection best practices, and adopt protocols that prioritize worker well-being. Current and prospective employees need to be assured that their employers are prioritizing cleaning and disinfection in the workplace, and not sacrificing worker safety for budget concerns.
As business work to reopen and transition employees back to the workplace, they must also be aware of occupational health and safety regulations under the Workplace Hazardous Materials Information System (WHMIS) and establish processes for cleaning and disinfecting, including precautions in the event an employee or visitor develops COVID-19 symptoms.3
ServiceMaster Clean is aligned with Health Canada recommendations and has the experience and resources to implement effective preventive cleaning, disinfecting and sanitizing procedures to help prevent outbreak and spread of infectious disease within facilities of all types and scale.
Help your employees feel good about returning to the workplace. Promote a sense of well-being and a healthy safe work environment by maintaining regular professional cleaning and disinfection maintenance schedules.
Let ServiceMaster Clean help you achieve your goals for a cleaner, healthier and more productive workplace, and provide peace of mind for your employees. Contact us today for a no-obligation assessment of your office or facility. We will work with you to develop a cleaning and disinfection service plan to suit your facility's specific requirements and budget.
Sources:
1 https://www.benefitscanada.com/news/bencan/what-are-canadian-employees-top-concerns-about-returning-to-workplace/
2 https://cleaningcoalition.org/wp-content/uploads/2021/12/Cleaning-Coalition-of-America_Vaccinated-And-Unvaccinated-Worker-Survey.pdf
3 https://www.canada.ca/en/public-health/services/publications/diseases-conditions/cleaning-disinfecting-public-spaces.html