Get ready for the New Year with Protect-3 Advance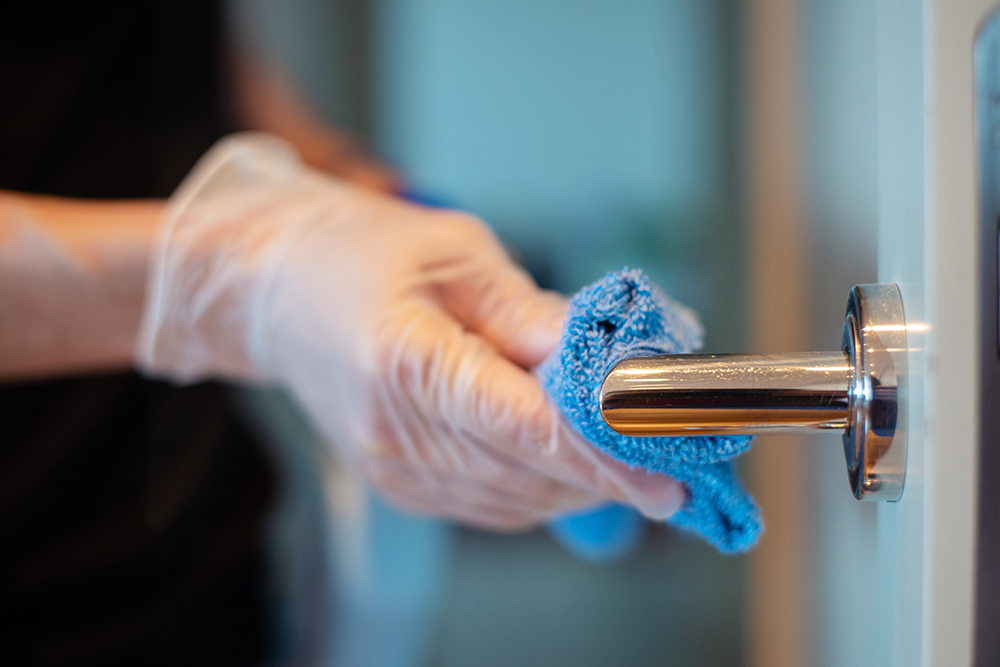 With the concern for infection risk from both COVID-19 and the flu this year, the upcoming holiday season is an ideal time for businesses to arrange for detailed deep cleaning and disinfecting services in preparation for the new year. When many facilities are closed and most staff are away, the holidays offer a perfect opportunity for cleaning technicians to access and target areas not included in regular cleaning routines during the rest of the year.
As a result of COVID-19, office and facility managers are now being called upon to address infection risk in the workplace and to implement effective infection control practices and procedures. With the heightened awareness of virus outbreak and transmission, building occupant and employees need to be assured they are returning to work in a safe and healthy environment.
As businesses reopened, ServiceMaster Clean responded to the need for reliable commercial disinfectant services and infection control precautions. We have designed an innovative, science-based program called PROTECT-3 ADVANCE™ to offer comprehensive cleaning and disinfecting services, including continuous preventative protection for facilities of all types and sizes.
The PROTECT-3 ADVANCE™ program is comprised of three distinct procedural stages: CLEAN, DISINFECT & FORTIFY, providing full-circle cleaning, disinfection and continued protection services for businesses of any scale.
A cornerstone of PROTECT-3 ADVANCE™ is the use of ATP monitoring, a scientific testing method used in healthcare environments to validate the effectiveness of cleaning and disinfection at a micro level. Since a disinfected surface only remains sanitized until someone touches or coughs or sneezes near that same surface again, the ongoing protection provided by the FORTIFY stage of PROTECT-3 ADVANCE™ is vital to help ensure the continuous health and safety of your workplace.
A primary option available in the FORTIFY phase, is the application of AEGIS Microbe Shield™, a protective coating that molecularly bonds with surfaces and inhibits the growth of microbes between regular cleaning and disinfection sessions. Upon application, AEGIS forms a colourless, odourless, positively charged polymer that attracts, then electrocutes, ruptures, and disintegrates a microbe's negatively charged cell membrane, thus providing continuous preventative protection.
AEGIS, the world's most widely used antimicrobial surface treatment, is globally registered and has a proven track record of safe use and durability, ensuring long-lasting antimicrobial efficacy for up to 1 year.
What better way to start off the year than with a fully disinfected and protected workplace. ServiceMaster Clean can help you get there.
---
PROTECT-3 ADVANCE™ is another innovative program from ServiceMaster Clean and part of our Healthy Office initiative, bringing more science to cleaning as our world adapts to getting back to work.
At ServiceMaster Clean, our professional commercial cleaners are experts in creating clean, safe and healthy work environments. We have the experience and resources to help maintain and promote safe practices for infection prevention within all businesses. ServiceMaster Clean is aligned with Health Canada recommendations and has preventive commercial cleaning and disinfecting processes and procedures to respond to all types of infectious disease contagions, including COVID-191.
Our locally owned ServiceMaster Clean team can help your business implement effective preventive cleaning, disinfecting and sanitizing protocols to help prevent outbreak and spread of infectious disease in your workplace. Please call to let us be of service.
1 Human coronaviruses can remain infectious on inanimate surfaces at room temperature for up to 9 days. At a temperature of 30°C [86°F] or more, the duration of persistence is shorter. Veterinary coronaviruses have been shown to persist even longer for 28 days.
https://www.medicalnewstoday.com/articles/coronaviruses-how-long-can-they-survive-on-surfaces
DISCLAIMER - COVID-19 is an emerging pathogen and new information becomes available on a regular basis. The information presented here is based on reports available at the time this article was written, in July 2020, and is derived from several sources including the U.S. Center for Disease Control, World Health Organization, Health Canada and other sources. The information contained in this article may be updated at any point by the organizations mentioned herein. It is the responsibility of every business to stay current on new information regarding COVID-19 as it emerges. This article should not be construed to be the totality of all information available on COVID-19.